Superintendent of education Tom Hickey says a "trust has been broken" but that the division promises to support and welcome all students.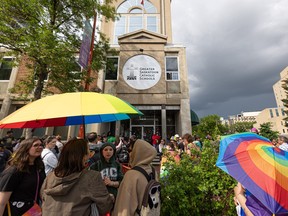 Article content
The superintendent of education whose recent emails sparked protests and backlash against Greater Saskatoon Catholic Schools acknowledged a "trust has been broken" but insisted that the division is promising to commit to welcoming students "and better supporting them" in their schools.
Article content
Last month, Tom Hickey, GSCS superintendent of education, sent an email to several Saskatoon Catholic school principals in which he said teachers and parent chaperones shouldn't take elementary students attending the Nutrien Children's Festival in Saskatoon to the event's Rainbow Tent. Hickey advised the principals to "speak personally" to teachers and parent chaperones, and "inform them that the Rainbow Tent should not be part of their visit" to the festival that started Thursday and continues until Sunday.
Article content
"Based on the description on the festival website, engagement and participation by our students in that particular on-site offering would not be supported," Hickey wrote in the email on May 17.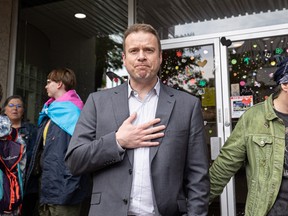 The description of the Rainbow Tent on the festival website at the time Hickey's email was sent reading: "From Drag Queen Storytime to inclusive dress-up performances filled with color and fun, this tent is full of rainbows."
Article content
Hickey on Thursday addressed dozens of people who rallied outside the school division's office in downtown Saskatoon. Visibly emotional at times, Hickey said he's had conversations with "many members all across the sexual diversity spectrum" in the days since his email was made public. He said that during those encounters he "felt an incredible amount of hurt … and that was very difficult."
He said the division will commit to learning opportunities for staff and school officials.
"We're not there yet and we need to continue to grow into it," Hickey said.
"We love all our students," he added, saying that he apologized "for all the pain" in recent days.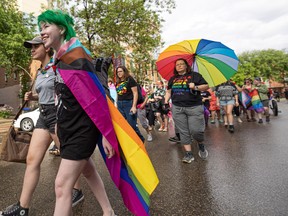 Retired teacher Patti Rowley was among those gathered Thursday outside the GCS office. She said she hoped she was "representing active teachers right now."
Article content
Rowley, who during her time at Mount Royal in 2001 Saskatchewan's first gay-straight alliance (GSA) club, acknowledged the apologies from Hickey and from GSCS director of education Francois Rivard last week but said: "those are just words started."
She said the GCSCS, through the messaging in the email last month, was "actively excluding a part of your community" and that it is "not only hurtful but harmful and dangerous."
Last week, Rivard in a statement said that parents and caregivers are in the best position to decide on their children's participation in this programming within the festival.
"We recognize the internal email has been viewed by some as one of judgment, hate and exclusion. That was never the intent, nor does that represent our division's beliefs. We acknowledge the deep hurt, and for that, we apologize."
Article content
The Saskatoon Public Schools division held a Pride flag raising on Thursday. In a statement, the division said they "strive to create safe, welcoming and joyful places that are caring and accepting of all."
Nutrien Children's Festival organizers in a statement reiterated their commitment to the Rainbow Tent and inclusive activities.
"We believe that every child should feel heard, loved, accepted and supported and we work hard to provide performances and activities that support this belief," organizers said last week in a statement.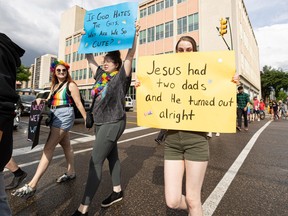 — with files from Michelle Berg
Saskatoon Pride urges GCSCS teachers to think 'outside narrative' from administration

A year of Prairie Pride
Spring subscription sales: Our in-depth and latest news journalism is possible thanks to the support of our subscribers. For a limited time, you can get full online access to The Saskatoon Star Phoenix and The Regina Leader-Post, along with the National Post and 13 other Canadian news sites, for just $40 for one year or $1 a week for 52 weeks. Support our journalism by subscribing today: The Saskatoon StarPhoenix.
Tags:
education news stories
,
education news today