A Canadian Taxpayers Federation official questions why former MPs who already get large severance checks upon leaving office need access to such benefits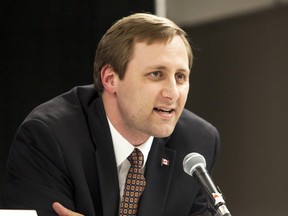 Article content
Ivy League courses, executive training, and certifications from new-age self-help gurus are among the post-political life transition expenses claimed by former members of Parliament.
Article content
Documents obtained by the Canadian Taxpayers Federation show that 12 former MPs billed the federal government's transition support program $90,303.89. The program makes $15,000 available to former MPs, meant to assist in career transitions for life outside of public office.
While each former MP has up to 12 months to use the $15,000 benefit, extensions were granted due to the COVID-19 pandemic.
Among others, Whitby MP Celina Caesar-Chavannes in 2022 claimed $3,983.34 to the Chopra Centre, a new-age wellness and educational institute co-founded by celebrity alternative-medicine guru Deepak Chopra. In 2019, she expensed $2,094.08 to San Diego-based private online school Northcentral University.
In 2022, former Fredericton MP Matt DeCourcey expensed $8,690 in transition fund dollars for a "Mini MBA" program with the McGill Executive Institute.
Article content
According to his LinkedIn page, DeCourcey spent nine months as senior adviser to the federal finance minister, before taking a two-year position as senior strategic engagement advisor to the president of the University of New Brunswick between December 2020 and February 2023.
He started a new position this month as head of corporate affairs for a California-based software development firm. He's also a senior fellow for the Pearson Center think tank, and a mentor with a youth-oriented education and fellowship program.
Two former MPs who billed for transition funding ultimately ended up in municipal politics.
Dan Ruimy, who represented the Vancouver-area riding of Pitt Meadows-Maple Ridge until he was voted out of office in 2019, saw his plans to become a self-employed immigration consultant put on the back burner after becoming mayor of the City of Maple Ridge in last October's municipal election.
Article content
Independent review finds no widespread interference in the 2021 federal election, but problems with the system

House committee officially calls for government inquiry into foreign election interference
He had expensed $10,488 to take a yearlong immigration consultancy course with a private career college.
Amarjeet Sohi, who served as both infrastructure and natural resources minister under Prime Minister Justin Trudeau, expensed just under $5,000 to "SCIC e-Academy" between June 2020 and March 2021. After a one-year stint as a senior advisor to an Ottawa- based public affairs firm, Sohi was elected mayor of Edmonton in October 2021.
Two former members billed taxpayers for courses at Ivy League schools in the United States.
Article content
Bruce Stanton, who for 15 years represented the riding of Simcoe North until deciding not to run in 2021, billed the program $3,210.15 to earn a certificate in hospitality management from Cornell University's online executive program in February 2022.
Later that year, Stanton was named a member of Georgian College's board of directors.
Veteran Conservative fellow ex-MP Brad Trost billed the full $15,000 limit on unspecified courses at Harvard University between August 2020 and September 2021.
Trost represented ridings in Saskatoon from 2004 to 2019, until losing his party's nomination for the riding ahead of that year's federal election.
Another MP who claimed the full amount was former Victoria MP Murray Rankin, who represented the NDP federally from 2012 to 2019.
Article content
Rankin — a lawyer who holds law degrees from the University of Toronto and Harvard Law School — expensed $15,000 to the U of T's Rotman School of Management in 2019, the same year the prime minister appointed Rankin chair of the federal National Security and Intelligence Review Committee .
Rankin held that position until late 2020, when he was elected to BC's provincial legislature, where he currently serves as the province's Indigenous relations minister.
Other former MPs who claimed transition expenses include Will Amos, who claimed $11,000 for courses with the Institute of Corporate Directors and the Rotman School of Management. Amos declined to run for his seat again in 2021 after revealing his nakedness to his fellow MPs in hybrid Parliament sittings on multiple occasions.
Article content
One-term Port Moody-Coquitlam MP Nelly Shin expensed $3,935 in 2022 for language and professional development training. Quebec Liberal Veteran MP Denis Paradis charged for two University of Ottawa courses, amounting to $2,750.
Franco Terrazzano, federal director of the Canadian Taxpayers Federation, questioned why former MPs who already get large severance checks upon leaving office need access to such benefits.
Members of Parliament who don't meet the six-year pension threshold are entitled to over $92,000 in severance — more if they were in cabinet or chaired a committee — as well as eligible relocation benefits and a year of free personal, financial and legal counseling for them and their families.
"Most Canadians can't get fired and still bill their former boss for an Ivy League education, and neither should MPs," Terrazzano said.
"Why are taxpayers paying for the education and training costs of highly compensated federal politicians who already receive a slew of platinum perks?"
Tags:
current events in education 2018
,
school education news