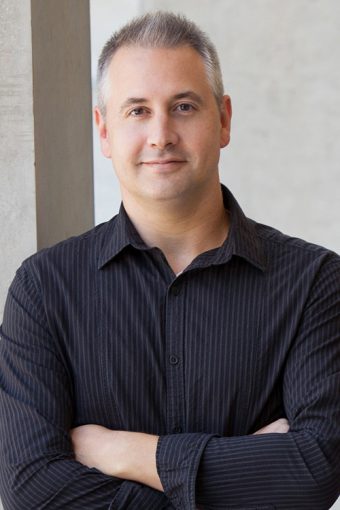 June 20, 2023
Contact: Eric Stann, 573-882-3346, [email protected]
Growing up, Brian Kisida always enjoyed going to school. He especially enjoyed the broad spectrum of subjects he was able to explore, including the arts. Now, as an assistant professor in the Truman School of Government and Public Affairs at the University of Missouri, he is researching the relationship between arts education and student success.
Over the years, Kisida, an expert on education policy, has seen the culture of education shift dramatically.
"I saw the impact that the culture-obsessed test had on schooling, students' mental health and enjoyment of learning," Kisida said. "I wanted to know why we were seeing these changes that seemed to not be in line with the original purpose of public schooling, which was to create engaged and informed citizens."
This desire to investigate the changing landscape of education in the United States is what led Kisida to his passion for studying education policy.
"When I first got into education policy, I was thinking 'what can we do to make schools produce better citizens?'" he said.
Now Kisida, with support from the National Endowment for the Arts (NEA), will be able to dedicate more resources to answering this question. Recently, the NEA awarded Kisida and his longtime research collaborator Daniel Bowen, associate professor at Texas A&M University, a pair of grants totaling $300,000 over four years to establish an NEA Research Lab dedicated to researching the arts, humanities and civic engagement.
As one of 16 current NEA Research Labs, the overall goal of the lab is to provide research that supports NEA's five-year research agenda. In the short term, this research seeks to determine the relationship between arts education and student success. However, in the long term, Kisida aims to take his research to policy makers to help inform them on important decisions involving education.
Education policies can have ripple effects on the success and well-being of students. One prime example of this effect is the No Child Left Behind Act. The No Child Left Behind Act was introduced by the George W. Bush administration in 2001 and required public schools to have annual testing in grades three through eight.
"On the one hand, this response was positive — it allowed us to see exactly where schools were struggling," Kisida said. "On the other hand, schools started focusing more exclusively on those things at the expense of others."
The effect of this shift to a test-focused education were cuts in departments such as art, music and social studies. According to Kisida, this may also be a contributing factor to many of the challenges young students face today.
"Kids are struggling right now in America," Kisida said. "There are records of suicide rates, records, depression rates and a record need for anxiety medication."
For many students, art or music education is a way to express themselves, be creative or relieve stress. This positive outlet can, in turn, enrich a student's schooling experience and garner success in other non-art courses.
"When researching arts education, we find that students who are involved in the arts enjoy school more, are more engaged and they're just happier to be there," Kisida said.
However, these programs can do more than just improve a single individual's experience — according to Kisida, they can also improve communities.
Art, music or social programs have been shown to promote prosocial behavior, or behavior that benefits society. Examples of prosocial behavior include empathy, understanding and tolerance.
"The arts are a fundamental mode of human communication," Kisida said. "Whether you're listening to music or reading poetry, it brings meaning and understanding to people's lives."
The relationship between arts education and student success has been a consistent finding throughout Kisida's research career. Last year, Kisida worked in Boston, evaluating the impact of expanded art courses on students in the public school system. The findings showed the expanded art courses improved student attendance and parent and student engagement.
In a similar study in Houston, Texas, Kisida found students exposed to arts education in public schools reported being happier at school and more interested in attending college after high school.
Kisida also recently served on the American Academy of Arts and Sciences' Commission on the Arts. Co-chaired by actor John Lithgow, John F. Kennedy Center President Deborah Rutter and former US Poet Laureate Natasha Trethewey, the commission worked to reframe the national conversation about the arts and highlight the positive contributions art makes to communities and democracy.
With the support from the NEA, Kisida was able to continue his research into the effect of arts education on students in more public schools. Ultimately, this research will help Kisida inform policy makers on decisions about public education.
But for now, Kisida is happy to have the recognition of the NEA, which he sees as a sign he is headed in the right direction.
"Federal funding and federal endorsement are a nice signal," Kisida said. "It's an honor to have that recognition and support."
Written by Samantha Novak
Tags:
define education
,
education definition pdf