When it comes to paperwork, teachers have a lot to manage! From homework and tests to papers printed for activities, grades, and so much more, there is just so much paper we have to manage! Teacher organization is a whole other side of teaching that you def don't learn in teacher college! So taming that paperwork beast can be the difference between running around your classroom and asking yourself, "Where did those papers go?" and having everything you need for the day's lessons prepped and ready to go. I don't know about you, but I def prefer the latter one! That's why I'm sharing some tried and true teacher organization systems I have in place that keep me organized and sane!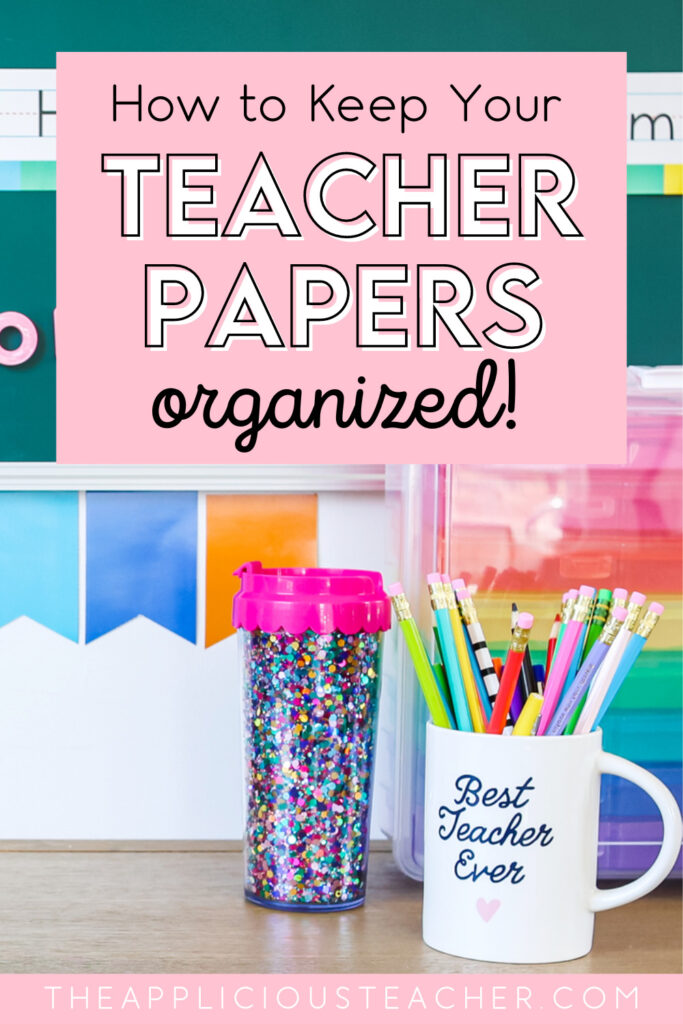 Please note this post contains affiliate links.  If you follow my links, please know that I make a very small commission from your purchase. There is no cost to you, but this extra coinage allows me to continue creating free resources and writing awesome content for you!
Teacher Paperwork Organization
Like I said earlier, there is a lot of paperwork that we need to keep track of, but for this post, I'm going to focus on the flow of classwork papers, specifically papers for activities, homework, quizzes, tests, and worksheets.
Future Papers Organization
So let's start with the first tier of paper organization- future papers. These are papers you need in the not-too-distant future- think a month or so. You know, the copies the team runs for you, like that reading test you need to give next week, or math pages for homework over the next few weeks.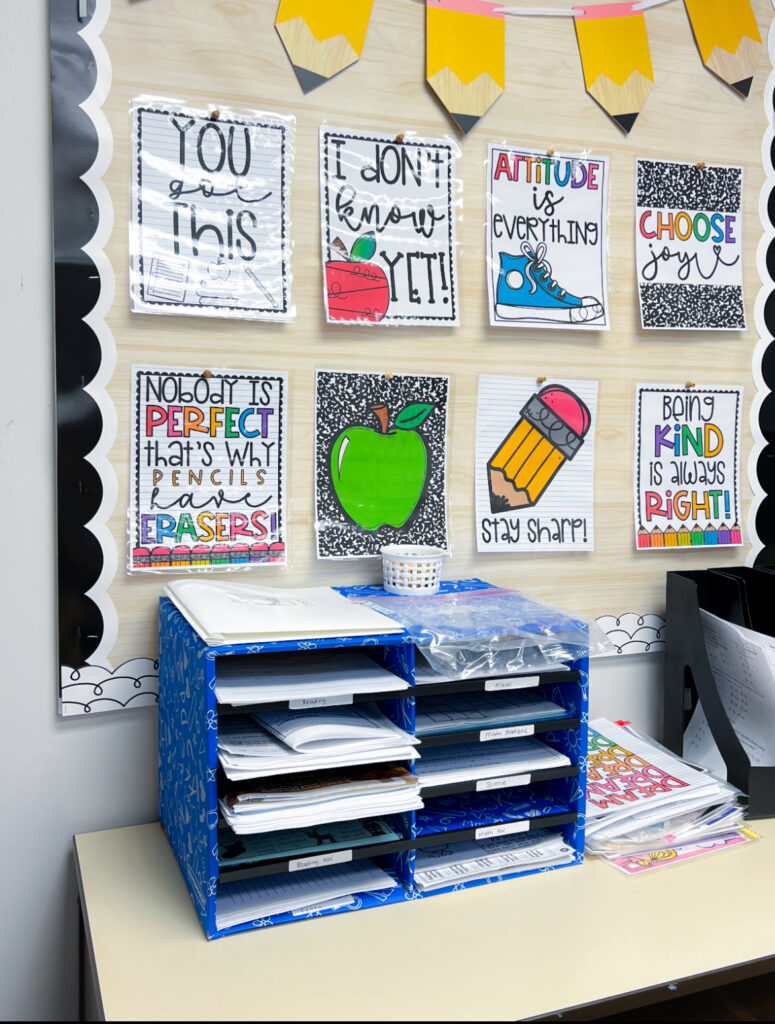 For future papers, I like to keep them in a 10-slotted paper organizer near my desk. This one I got from Amazon, and it's proven its worth many times!
For mine, I have a slot dedicated to each subject area:
Reading
Reading centers
Grammar
Homework menus
Math
Math centers
Math homework
Science
Social studies
Extras
Then, as I get things for the next upcoming weeks, I place the papers in their dedicated slot. When I start planning or setting up for the following week, I look through my organizer to grab the papers I need. No searching around looking!
Teaching Bins for Year Long Materials
My first few years of teaching, my 2nd grade team would order things for the year! We're talking all the math tests or all the reading homework sheets. This proved a little tricky to organize, so I started storing things in my teaching bins.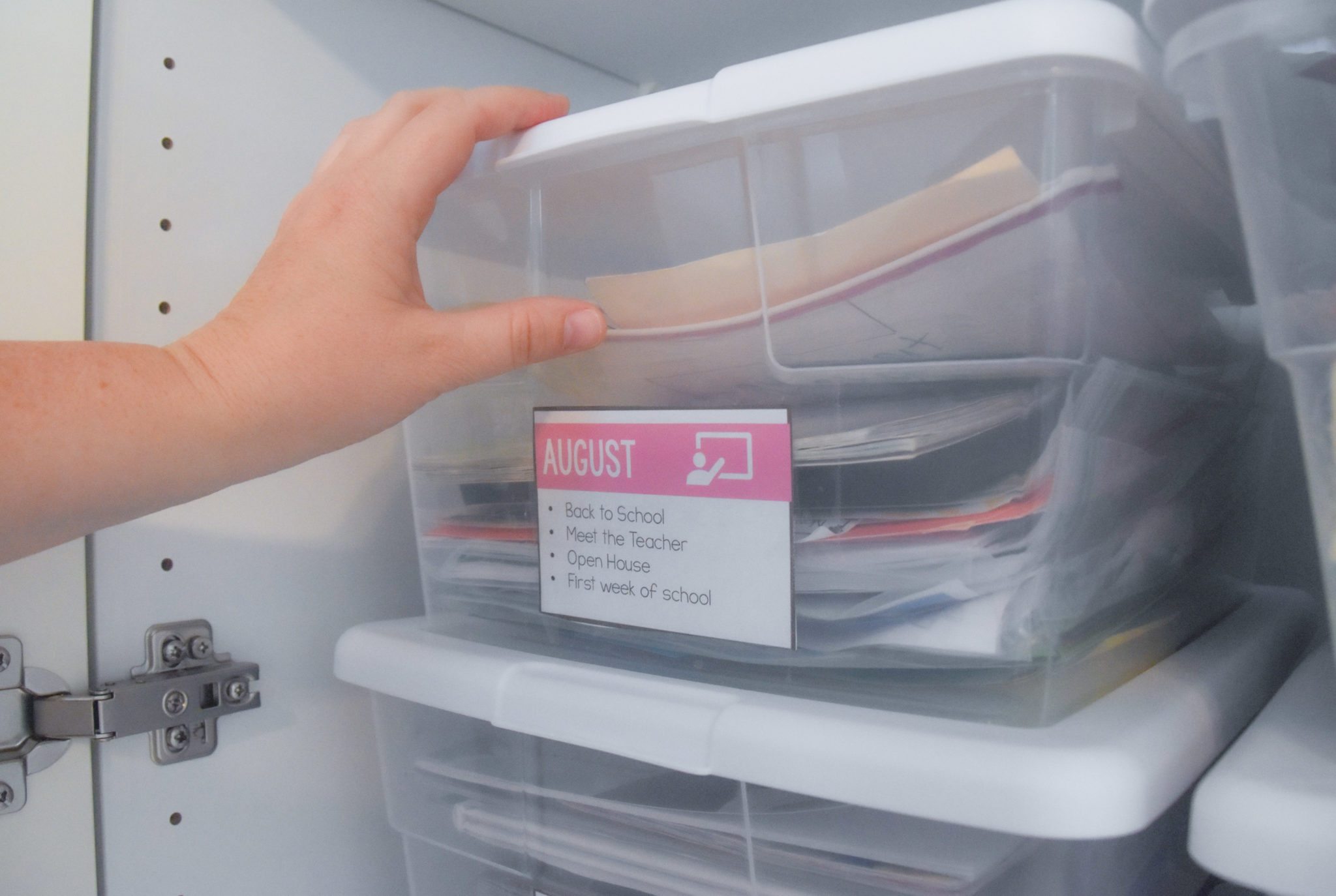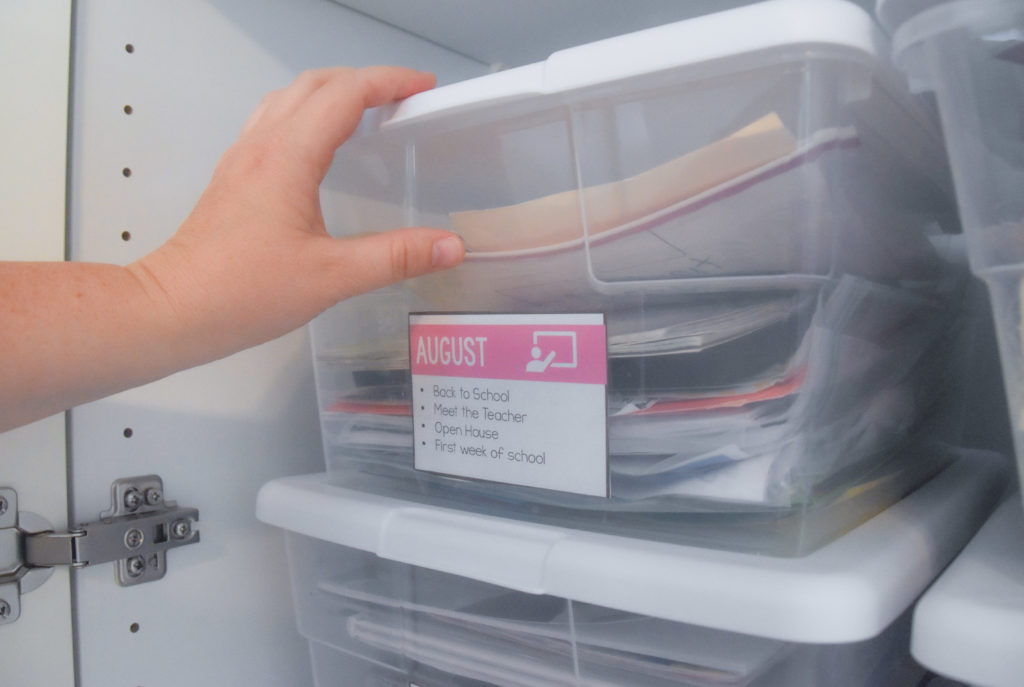 Teaching tubs are monthly tubs full of all the season "stuff" you have for your lessons year after year. When I'm ready to start planning for the next month ahead, I pull the monthly bin.
If you're allowed to order that far ahead, then I highly suggest that route!
Weekly Drawers for Easy Organization
Now, let's chat about how I keep my weekly materials ready and organized! I'm a huge fan of the weekly drawer method!
Weekly drawers are a set of drawers, each labeled with a day for the week.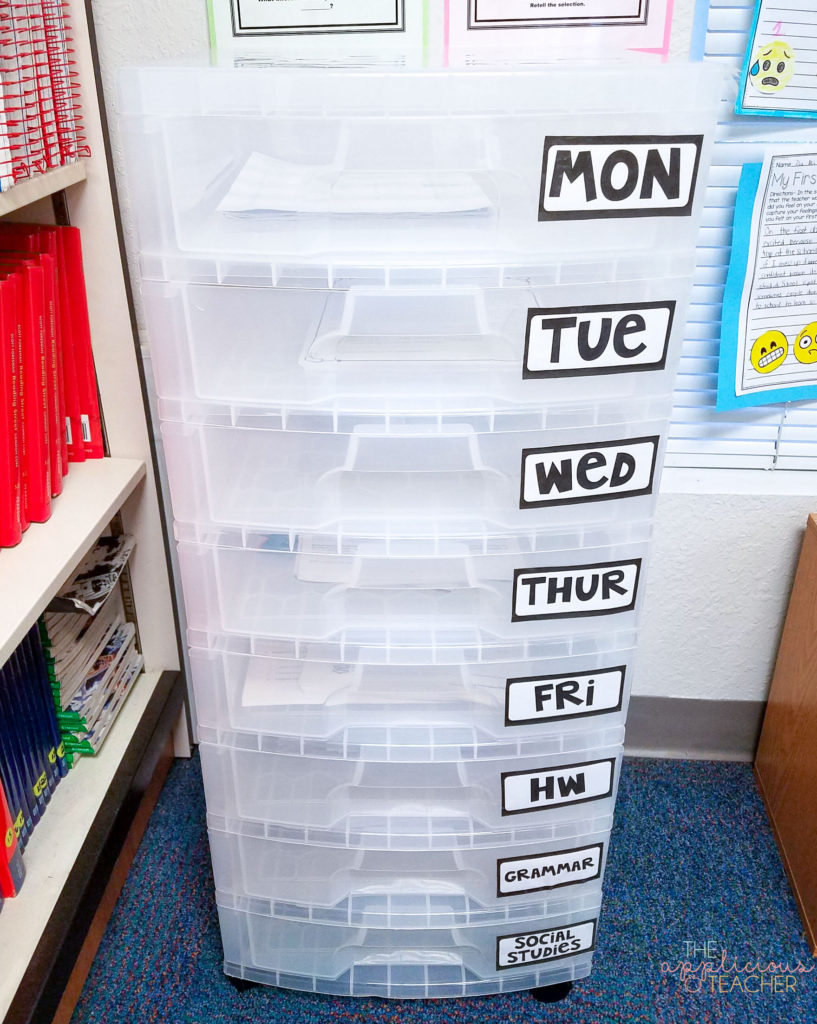 When I'm ready to plan for the week, I start pulling things from my future papers organizer. These papers then get put into their respective daily drawer, along with any other materials I might need for the day.
Just having all your weekly materials set and ready for the week is such a mental load-saver! And it makes setting up for the next day a breeze! Like a little gift to your future self.
These drawers are a lifesaver, and if you implement ANYTHING from this post, I suggest this system!
Want to grab labels to create your own weekly drawer system? Click here!
Teacher Organization: Collecting Student Work
Ok… we went through the pre-teaching paperwork process, but what happens after students have completed their work?
I use a simple turn-it-in bin in my classroom.
One for classwork (ALL CLASSWORK!) and
One for homework.
I've seen systems where you have multiple bins for multiple subjects, but honestly, I've found the one-bin system simple and easy to maintain. Truth time: I hate grading work, so the one bin means I have to stay on top of the work that's been turned in.
Now, let's chat for a second about students turning in work.
Just in case you didn't know: You don't have to grade/check/review every sheet of paper that students complete! It's ok to send work home that you did in class without looking at it. We do this a lot with the activities that students complete during center time. And don't underestimate the power of the check mark!
Looking for ways to reduce your graded paper stack? Check out this post!
Passing Back Student Papers
Now that you've graded papers and put them in your grade book, you're ready to give them back to your students… but what's the best way?
Well…for me, I like using a student mailbox system.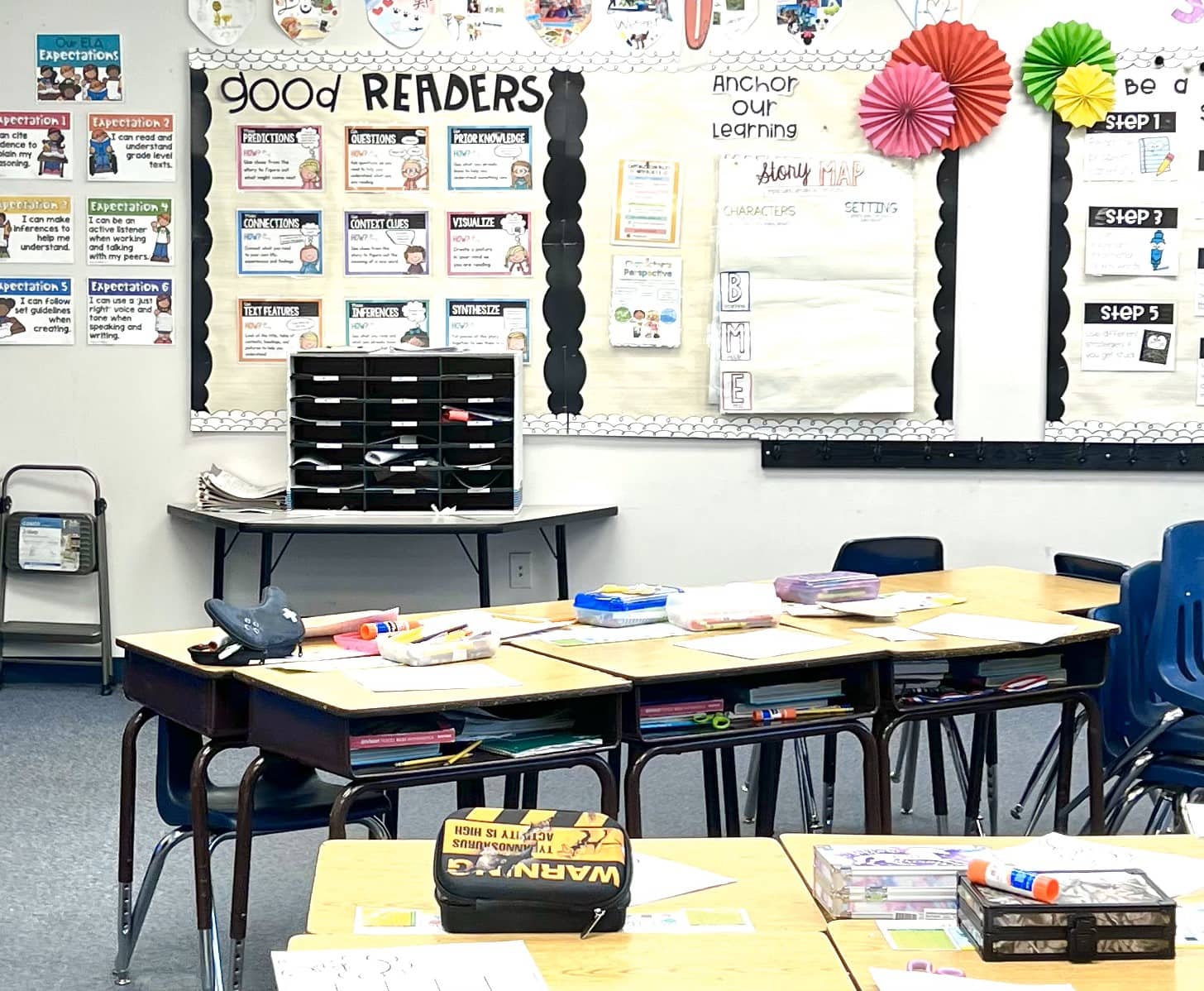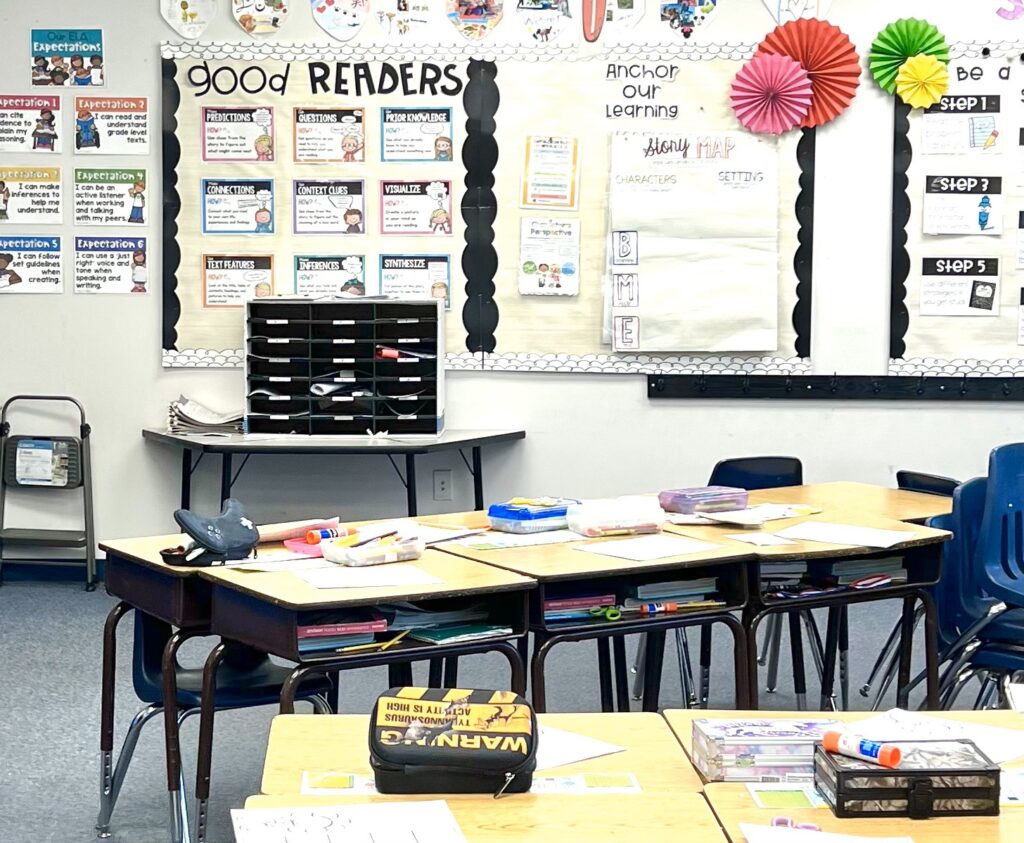 This is a 21 slot paper organizer. Each slot has a number that coordinates with students' numbers in the classroom. I've used a similar system since my second year of teaching and have found HANDS DOWN this to be the easiest way to send work home on the daily!
Students can put things in their mailboxes throughout the day, and I'm able to add graded work as I'm ready to pass it back. Then, at the end of every day, students go to their mailbox as part of their pack-up routine.
In the past, I've used the "pass it out" system -but that was such a hassle and took up so much of our instructional time at the end of the day!
Teacher Idea: If you don't have space for such a large organizer, you can definitely do a file crate with numbered files. I did this when I partner-taught in 5th and in again in 2nd. I just had a set of blue numbers and pink numbers. The blue numbers were for the morning class, and the pink were for the afternoon class.
Teacher Organization Ideas for Papers in the Classroom
These are just a peek at the teacher organization systems I use in my classroom to help me stay on top of all those teacher papers. From organizing long term use papers and staying on top of supplies and materials for the week of, these systems help keep me sane and less stressed (which I def need more of!)
The Teacher's Everything Binder Bundle
Looking to keep the rest of your teacher stuff organized? I mean, how many schedules and checklists can you have stuck to your filing cabinet before you go crazy?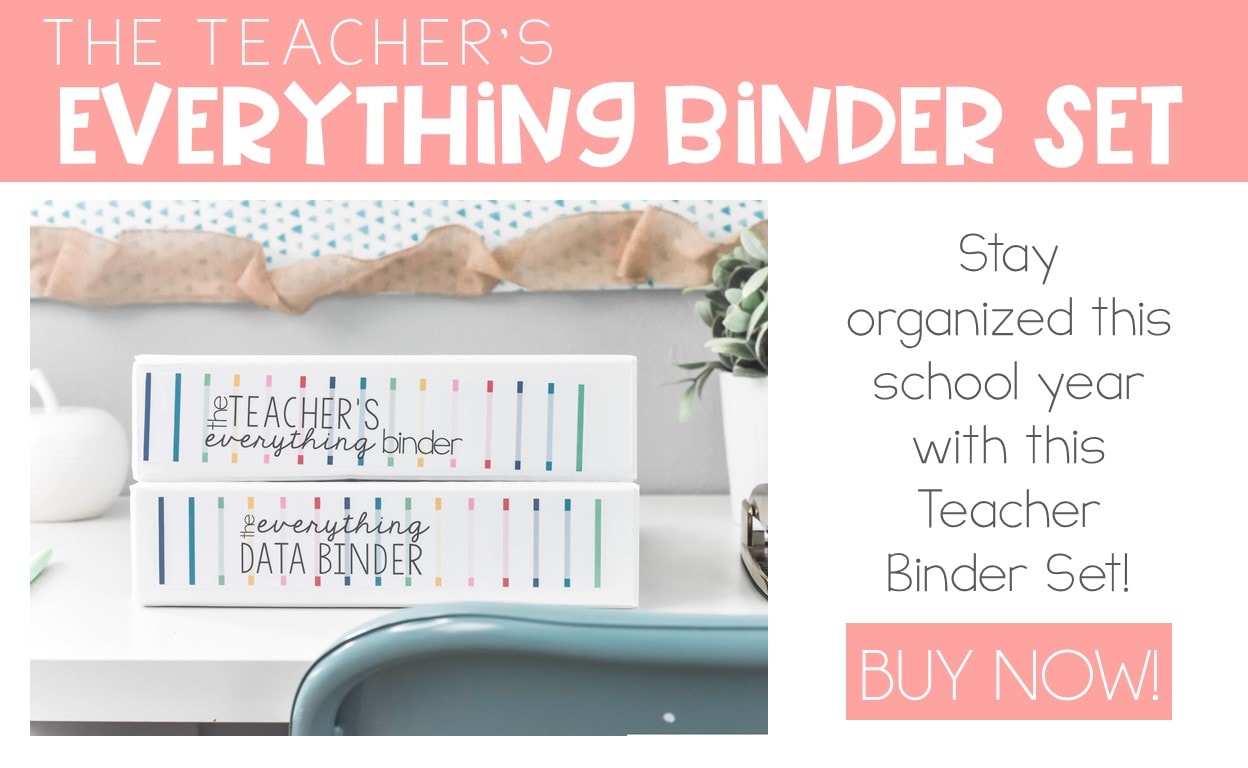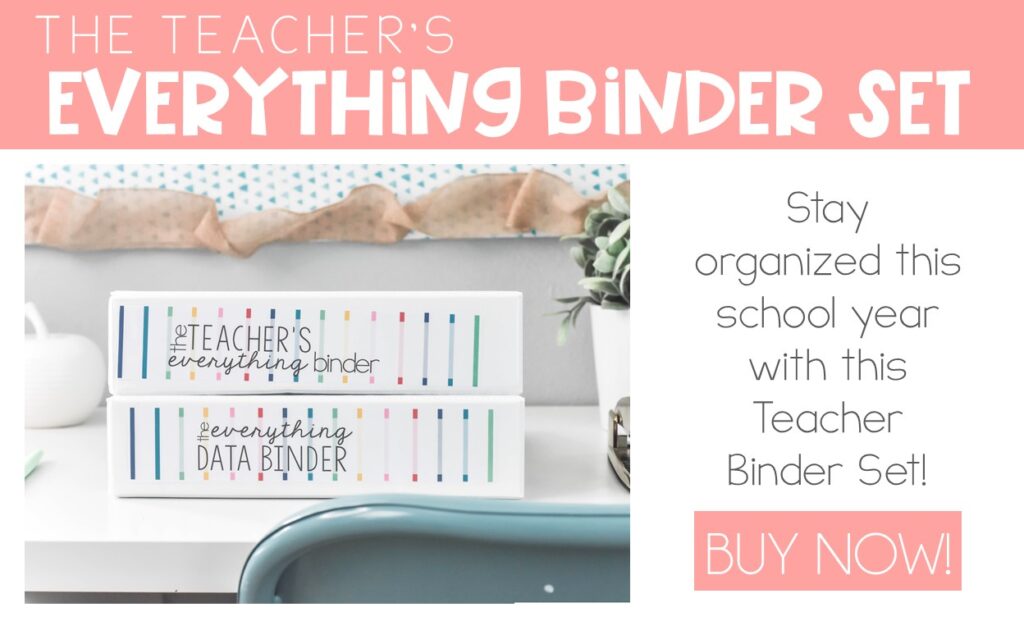 If you're ready to get and stay organized this upcoming school year, be sure to check out this best-selling binder duo!
This set includes a binder for all that "teacher stuff"- think lunch schedules, master schedules, and meeting notes. It also includes a binder to help you hold all that student data! Perfect for grabbing and going to that meeting you forgot about until they called from the office!
Click here to check it out!
More Posts to Get Your Organized!
Sign up to snag these!
Receive all these classroom management tools right to your inbox!
Tags:
pre secondary education
,
secondary education degree meaning